The first email horse matching service.
Get horses in your inbox based on your criteria.
Hannah Holik




Competitive Rider
"The equestrian community needed an online platform to connect elite barns, trainers, riders, and horses. Artemis fills the void we have been missing in our network capabilities, especially in times where in-person meetings are declining"
"The selling process with Artemis was easy and enjoyable. The horse we listed sold in 3 days - way faster than anticipated! I am happy with my experience and recommend Artemis to others who are trying to sell their horses. This platform is creating a simple yet high-end experience for the horse community"
"i love how Artemis saves SO much time. I can't tell you how many hours I have spent searching around online trying to find horses that don't even remotely meet the specifications that I'm looking for. This process was quick, precise, and on point to what I have been searching for! I am excited to learn more about my horsey match!"
We provide a reliable supply of sale horses meeting their criteria as our horses are collected.
We focus on supplying Buyers with the best horse matches available
Artemis provides our clients with a list of reputable transportation companies to facilitate delivery
List as many horses for sale at no charge.
No listing fees,
No transactions fees,
No percentage of sale
Best Tool for Horse Buyers
Share your criteria to get horses privately emailed to you when a horse comes available online! We know how much time we waste on Facebook digging in Facebook groups & pages to find a horse
We take the upmost precision to ensure Buyers save time & Sellers get qualified customer matches.
Our proprietary matching algorithm allows optimal matches 24/7
The horse has done successfully Medium Amateur (1.35m), but for the last year he has been leased doing .90 - 1.00m with more beginners type riders, taking them to like their first rated show at that height. Great all around horse, perfect for someone looking to learn the ropes of the jumpers.
Candy is extremely no spook and is an excellent mover. She has the sweetest personality and will give you her all. Located in Wellington, Florida
Porfidio is an incredibly talented jumper. He has taken his previous rider through the junior jumpers and has dabbled in a few bigger classes with a professional. He jumps and moves beautifully and correct. He is easy under saddle and on the ground..This horse is an amazing opportunity for a junior or amateur who wants to be competitive. Could also make a great eq horse.
Frequently Asked Questions
Is it free to list my sale horse?
---
Yes! All sale horse listings for Sellers are free! You can submit an unlimited amount of horse listings here
Artemis believes that Sellers should pay for a service based on performance rather than traditional outdated listings with no guarantee that they're match with qualified Buyers
---
How are horse matches charged?
---
In exchange for saving buyers time, we charge a one-time fee for each horse match request made here
Clients then recieve emails on a rolling basis of horses that match your description daily with the Sellers information, videos, and photographer information in the email as seen below!
---
What is included in my Artemis Horse Match emails?
---
When a horse match is made, you will receive an email like this. It displays the Sellers contact info, horse qualities, videos, & links to the photographer who is experienced with shooting that horse.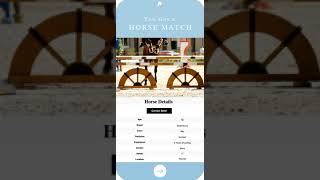 ---
Do you partner with equine photographers?
---
Yes! We love supporting our equine photographers. Photographers in our network have their work
Showcased as the main horse image in our horse match emails
Their website linked to each of their images
Business credited at the bottom of emails for new customer to connect.
Aggregate our photographers into an easy list with portfolios for clients to connect
Showcase them in our social media channels when added to our team :)
---
When am I notified when I receive a match?
---
Artemis sends all email matches daily at the same time.

For Buyers, this keeps the process fair as it allows you with 24 hours to privately contact the Seller before the next batch of matches are released the following day.

For Sellers, it gives you time to address each qualified buyer for 24 hrs & not be overwhelmed with notifications.
---
Can I advertise my business in your horse match emails?
---
If you are interested, please email us at concierge@artemishorsematch.com or contact us at 561-206-4339 with your proposal
---
---